Collaborating on a Residency K&E: Act 7 at 58 Shelmerdine Close, Bow, London.
The notion of the audience's relationship to the artwork was considered when I undertook an art residency with collaborator Elizia Volkmann in 7 quiet Acts of Domestic Violence (7qADV). This series of live art events took place over a seven-week period in 58 Shelmerdine Close, a condemned maisonette in the East End of London (2010). The artistic enquiry was curated by Tanya Cottingham, its last tenant, to mark the final months of the maisonette's life. The building complex was a low rise, grey concrete quadrangle, which had been degraded from its post-war architectural intention to be a new form of community living that was seen as more idealistic than the old terraces it had replaced. Now, in its turn, it was scheduled for demolition after becoming a decaying ghetto beleaguered by crime.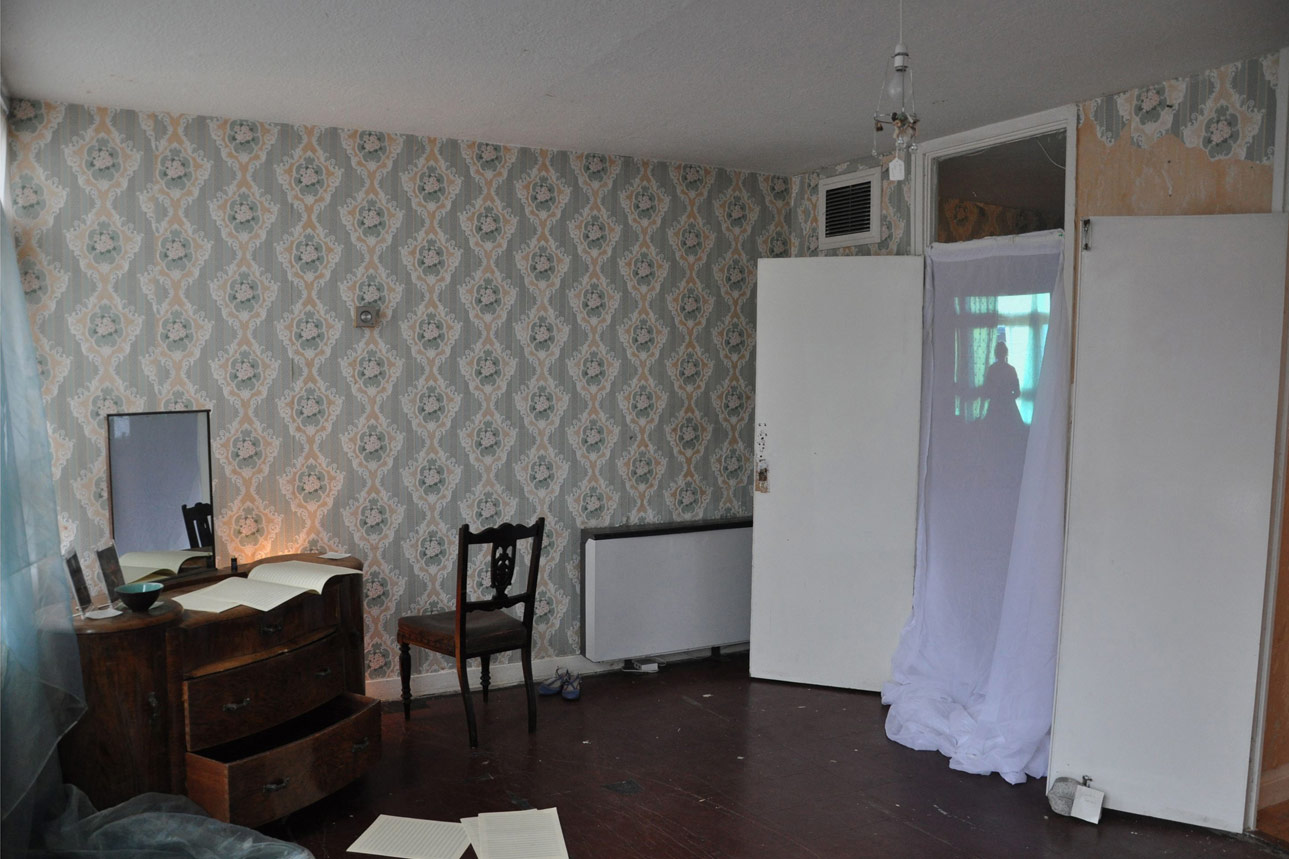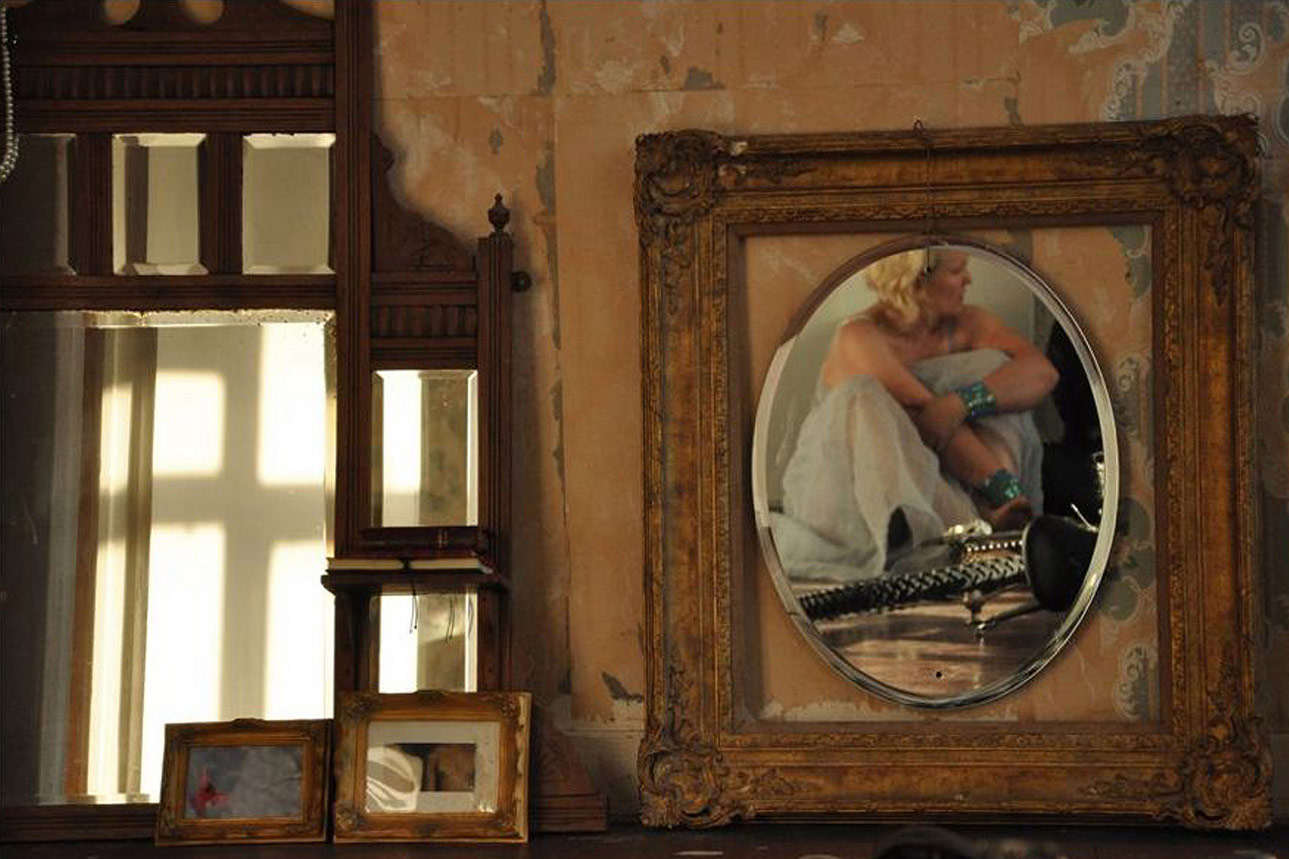 As the temporary tenant of 58 Shelmerdine Close, a Bow Arts live/work flat, Cottinghamset out to highlight the politics and prejudices of urban space by deconstructing private place and social reality through this series of seven 'Acts'. Taking place over seven weekends in the autumn, Cottingham invited artists to spend six days responding to the flat, which culminated in a closing event to a participatory guest audience. Elizia and I, collectively known as K&E, were the final act of the series. Working with the whole house, Act 7 had multiple layers. We created artworks, live and recorded performances, following the week-long residency. This concluded with a public view by invitation. The exhibition was about process - interventions, happenings and interactions, crossing Fine Art genres. The emphasis was on layering and experimentation while mainly incorporating found objects.
Cycle, duration 9' 13", Karen Heald & Elizia Volkmann, (2010).
Three months prior to the residency, Elizia and I arranged a site visit to the building and local area in preparation for the work. We took photographs and produced an archive of the building in its transitional phase. Bearing in mind the title of the series, with its emphasis on quiet, and given that the maisonette was both a domestic home and an art space, we wanted to produce something that challenged the audience in subtle and ambiguous ways.
Our proposal had been to collect and transform objects that we obtained from Freecycle. Behind the concept was the recognition of Freecycle's community network and the fact that many women and their children flee their homes, leaving all their personal possessions, to escape domestic violence and consequently set up home again from 'scratch'.
Llafarganu Papagei, sound performance.installation, duration 19' 47", Karen Heald & Elizia Volkmann, (2010).
Elizia and I had decided beforehand that we would invite our audience via the Freecycle network so that a good percentage of our audience were unaware as to what they were coming to. Guests were invited via posts saying - Small boxed art works to give away to make way for larger works.
We boiled a huge vat of chicken soup and oven warmed bread. The soup strategy proved to be incredibly important it was not only very welcomed but also collapsed and pre-conceptions. Suddenly people were stepping into a house, possibly a home. The entire house filled with the soup's aroma creating a feeling of hospitality for our 'guests'. As the afternoon progressed, people started to chose their artworks and to take part in the cutting up and boxing of them.
The site gave context to the work and enabled the audience to connect with issues associated with the family environment while engaging with professional Fine Art practice. In creating performances, which incorporated time-based media, we implemented a positive transformation encouraging optimism and sanguinity.